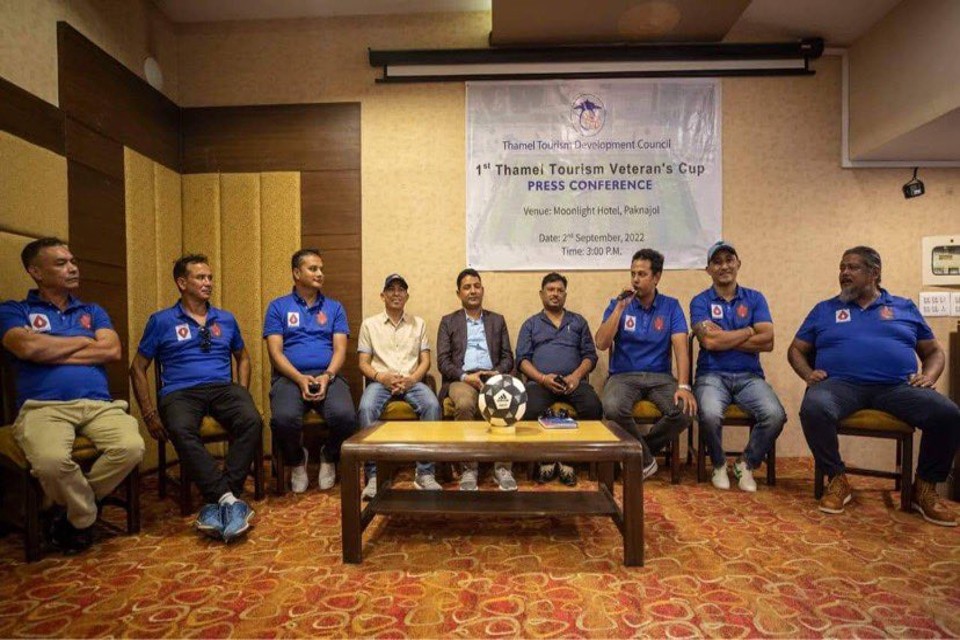 Thamel Tourism Veterans Football Cup will be held for the first time under the organization of the Thamel Tourism Development Council. The council held a press conference and informed that the first Thamel Tourism Veterans Football Cup tournament will be organized to promote the Thamel region through the sports sector.
Prasraya Rajbhandari, vice president of the council and coordinator of the competition, informed in the press conference that the competition would be held at the Lainchaur football ground from 9th to 11th Ashoj for the development of tourism in Thamel region through the sports sector.
Coordinator Rajbhandari said that 20 teams from major cities across the country, including Kathmandu, Pokhara, Dharan, and Chitwan will participate in the competition, along with two teams from the Thamel region.
For the participation of players above the age of 40, Rs 10,000 has been fixed for the team registration, and the deadline for team registration has been given until Ashoj 2. According to coordinator Rajbhandari, the matches will last 40 minutes until the semi-finals and the final will last 60 minutes.
According to the organizers, the winners will be awarded Rs two lakhs cash, medals and certificates, the runners-up will be awarded Rs one lakh cash, medals and certificates, the best player, the highest scorer and the best goalkeeper will be awarded Rs 10,000 and a certificate.
Chairman of the council Bhawiswar Sharma informed that the competition was organized to promote internal tourism in the Thamel region by connecting the sports sector with tourism. He said that even though domestic players are included in the competition, foreign players will also be invited to organize such competitions in the future.
Rajeev Pandey, general secretary of the council, said that it is estimated to cost Rs 12 lakh to 15 lakh to complete the competition organized by Thamel Council for the first time. The organizers said that they will not take any money from the spectators who will come to watch the competition.