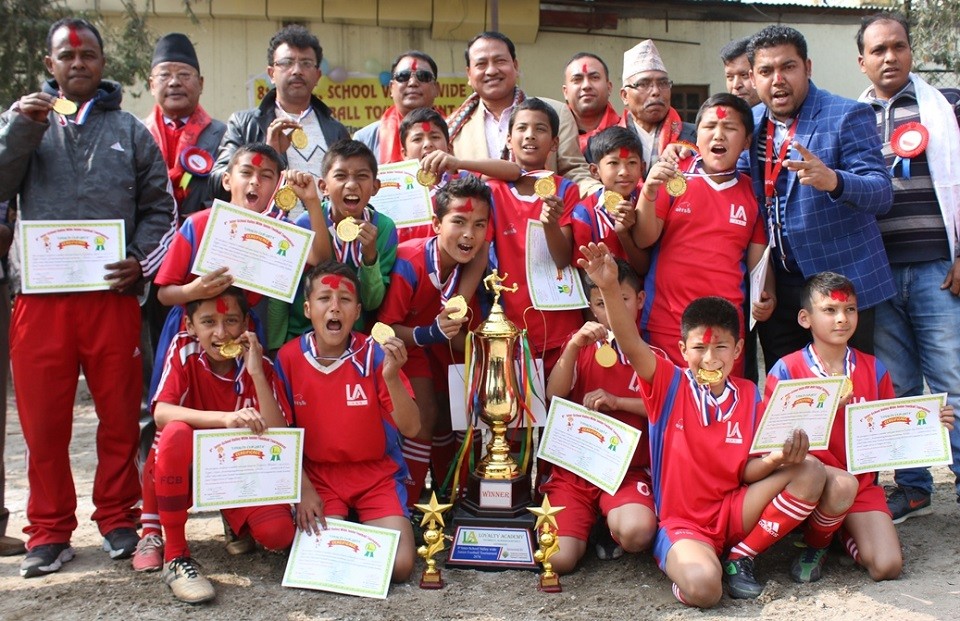 LA school has lifted the title of 8th Loyalty Cup in Kathmandu.
LA school defeated hosts Himalaya boarding school 5-4 to lift the title on Tuesday.
Prajwol Bhatta scored a brace while skipper Bhargav Silwal, Lakchya Maharjan and Joswa Budhathoki scored apiece for the winners.
Isham Karki scored a brace while Kshitiz Lama and Subesh KC scored apiece for the losing side. Subesh KC became the man of the final match.
Bhargav KC from LA was adjudged the most valuable player of the tournament. Prajwol Bhatta received the highest goal scorer award with eight goals. Kasthamandap school got the fair play award.
NSC member secy Keshab Bahadur Bista, founding director of Loyalty, Nanda Subba, principal Yogesh Chandra Bikram Sambahamfe and other guests distributed prizes to the winners.
Sixteen teams took part in the event.
Japanese Kids Paying Respect To U12 Team From Nepal