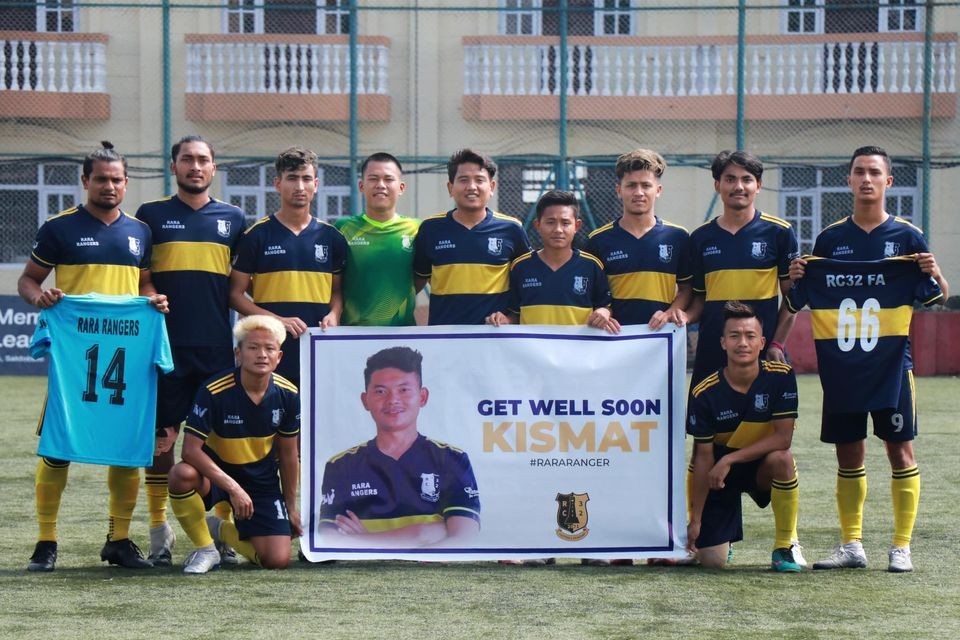 For breaking basic rules during their Martyr's Memorial 'C' Division League 2022 match against Pulchowk Sports Club on Sunday, RC32 Football Academy have been fined Rs 150,000 and their players and officials have been banned.
Following the League Committee's recommendation, the ANFA Disciplinary Committee has banned players Prince Shrestha for two years and Bidur Rijal and Prabin Rai for one year from participating in ANFA-sponsored or approved football tournaments. Team officials Sanjiv Karki and Anup Bhattarai have been banned from attending the league's remaining games. In contrast, team official Rabin Chand has been barred from participating in football tournaments for a year. All of the suspensions will take effect on May 9th. Following their 2-2 draw on Sunday, the club's players and officials sparked a brawl by storming the VIP area of the ANFA Complex and assaulting technical staff.
The fine imposed on Shree Bhagawati Club for manhandling match officials after their Martyr's Memorial 'B' Division League 2078 match against Bansbari Club on March 23 has been increased by the Disciplinary Committee. Shree Bhagawati will now have to pay a Rs 100,000 fine. Shree Bhagawati officials stormed the pitch after their 2-1 loss to Bansbari Club and assaulted match referee Suman Shrestha and security officials. Security personnel were called to the pitch to help calm the situation. For their roles in the incident, club officials Rajaram Shrestha and Bikram Dangol have been banned for one year each, while Shree Bhagawati player Anish Shrestha has also been banned for a year, starting March 24, 2022.
The fine given to Nayabasti Youth Club for the incident against Madhyapur Youth Association on April 9 was also reduced at the meeting to Rs 150,000. Following their 3-1 loss to Madhyapur in the Martyr's Memorial 'B' Division League 2078, the club's players and officials engaged in indiscipline and disrespectful behavior. The League Committee fined the club Rs 300,000.
The League Committee's decision to suspend Nayabasti club manager Bikash Rai for six months and player Manoj Rai for a year was upheld at the meeting. Shree Bahadur Yogi, a club official, has been banned for two years, while team manager Bikash Rai has been suspended for a year.