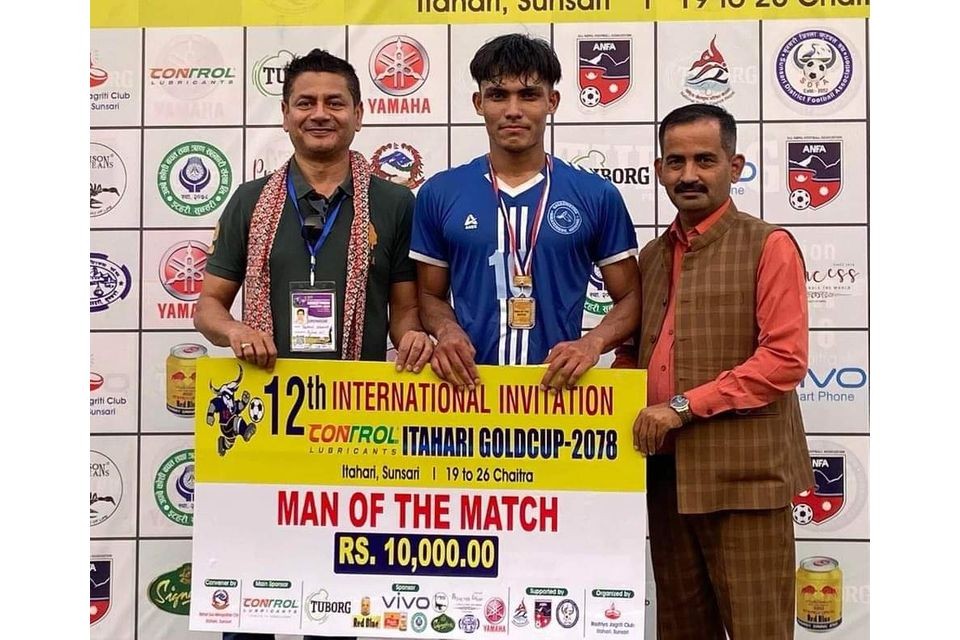 Sagarmatha Youth Club, Morang have advanced to the semifinals of the 12th Itahari Gold Cup International Invitational Football Tournament.
In the final quarterfinal held today in Itahari, Sagarmatha defeated New Road Team (NRT) 3-0 to advance to the semi-finals.
Awas Lamichhane gave Sagarmatha the lead in the third minute of the match. Sagarmatha had to wait until the second half to double the lead. Pradip Lama doubled the lead in the 60th minute. Awas Lamichhane, then doubled the lead in the 65th minute with a free-kick.
Awas Lamichhane was named the man of the match for his grace and received Rs. 10,000.
In tomorrow's first semi-final, Tribhuwan Army FC will face Rolling Club, Jhapa. TAFC defeated the hosts in the quarterfinal while Rolling Club defeated Avenir FC, Cameroon to advance to the final four.
The winner of the competition organized by Rastriya Jagriti Club, Itahari, Sunsari will get 7,00,000 rupees including the title and the runners-up will get 350,000 rupees.