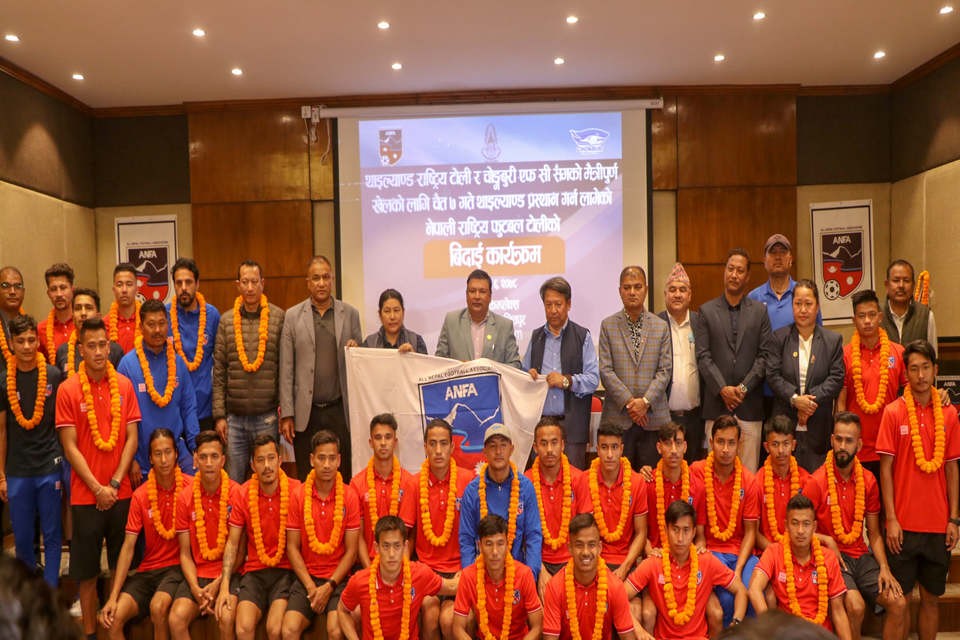 The members of the national football team who are flying to Thailand on Monday for friendlies against the Thai national team and Chonburi FC were bid farewell by the All Nepal Football Association (ANFA). The farewell was held at Satdobato's ANFA Complex.
Kul Bahadur Thapa, acting member secretary of the National Sports Council, and ANFA President Karma Tsering Sherpa wished the team luck in the friendlies.
Nepal is scheduled to face the Thailand National Team on March 24 and Chonburi FC on March 27 in preparation for the AFC Asian Cup third-round of qualifiers scheduled in June. Nepal is in group A alongside Kuwait, Jordan and Indonesia.
The six group winners and five best second-placed teams will join hosts China PR, Australia, Islamic Republic of Iran, Iraq, Japan, Korea Republic, Lebanon, Oman, Qatar, Saudi Arabia, Syria and the United Arab Emirates and Vietnam in the Finals to be held in China from June 16, 2023.
Squad: Kiran Kuma Limbu (GK), Tikendra Thapa (GK), Deep Karki (GK), Aashish Lama, Ayush Ghalan, Ananta Tamang, Prashant Awasthi, Anjan Bista, Arik Bista, Nabin Gurung, Nitin Thapa, Darshan Gurung, Dinesh Rajbanshi, Gautam Shrestha, Pujan Uperkoti, Santosh Tamang, Akash Buda Magar, Suman Aryal, Suman Lama, Sudip Gurung, Suraj Jeu Thakuri, Tej Tamang, Suvash Gurung, Rohit Chand
Officials: Indraman Tuladhar (Head of Delegates), Vijay Ghale (Team official), Purnaman Chitrakar (Team official), Abdullah Almutairi (Head coach), Kiran Shrestha (Assistant Coach), Bikash Malla (Goalkeeping coach), Krishna Bhakta Mananghdar (Team coordinator), Madhu Sudan Upadhyay (Team Manager), Avishkar Pudasaini (Physiotherapist), Bibek Subedi (Media officer), Bikash Gurung (Kit Manager)
Look Of Dasrath Rangasala In COVID Pandemic