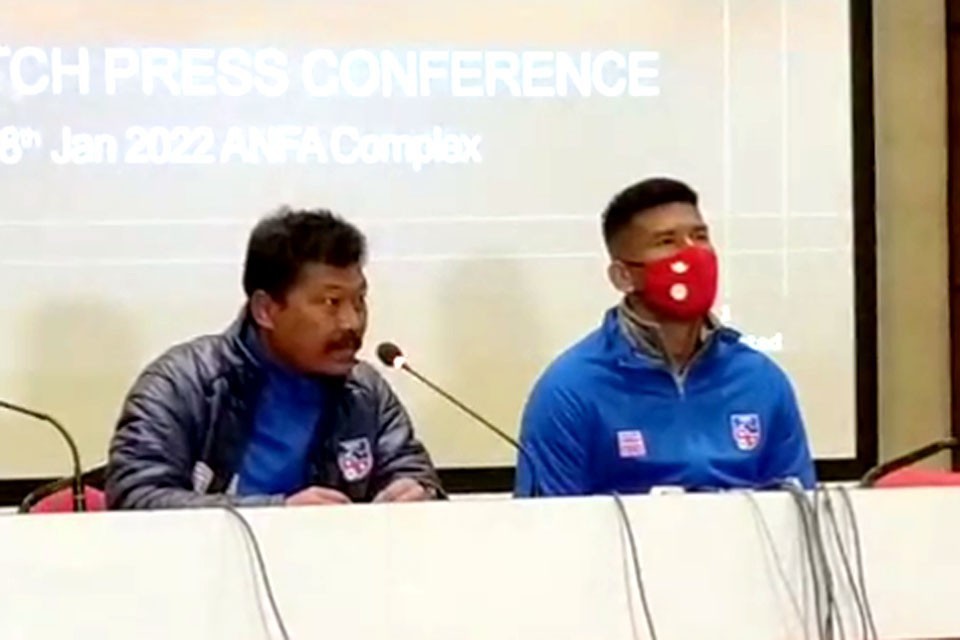 The captain and assistant coach of the Nepali team stated they are ready for the game during a press conference held on Friday ahead of the two international friendly between Nepal and Mauritius.
Kiran Chemjong, the Nepali squad's captain and goalkeeper, who plays professional football in the Maldives, said he had only returned home for the national team a few days ago and that he and the other players are ready to face Mauritius.
Captain Chemjong emphasized that the players on the team had earned their spots in the squad by performing well in the ongoing A Division League and that all of the players are fit to play against Mauritius.
Similarly, head coach Abdullah Almutairi was absent from the press conference, and assistant coach Kiran Shrestha took his place. Coach Shrestha stated at the press conference that the Nepali team was prepared for both games against Mauritius. He also stated that the two games against the African country will serve as an excellent warm-up for Nepal's Asian Cup qualifiers later this year.
The first friendly encounter between Nepal and Mauritius will take place on Saturday, January 29, while the second will take place on Monday, February 1. At Dasharath Stadium, both games will begin at 4:45 p.m.
Only one-third of the spectators will be allowed to enter the stadium, according to ANFA. Spectators' tickets are priced at Rs 500 for general stand and Rs 1,000 for VIP seating.
Nepal Vs Mauritius 2nd Friendly Match Highlights