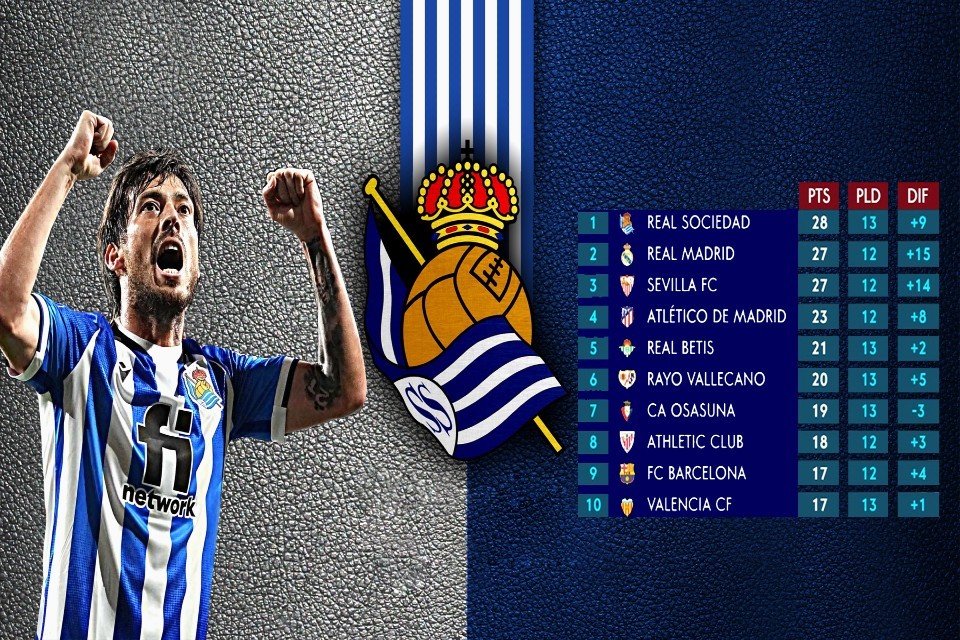 Powerful teams like Real Madrid, Atletico Madrid, and Barcelona were predicted at the top of the LaLiga table, but who thought Real Sociedad would contend the title. It was least expected.

Real Sociedad de Fútbol, S.A.D., more commonly referred to as Real Sociedad or La Real, is a Spanish professional sports club in San Sebastián, Basque Country, founded on 7 September 1909. It plays its home matches at the Anoeta Stadium.

Real Sociedad has been performing well in LaLiga Season 21/22 as it is standing on top of the table till Matchweek 13 with 28 points. In their last game in the LaLiga season, they beat Osasuna with 0-2, and they will face Valencia on the coming matchday.

Real Sociedad's top goalscorer is Oyarzabal with six goals in this LaLiga season, and they have scored 19 goals in total games of 13.

Real Sociedad was steadily climbing in top positions for the past few seasons. In 2017/18 it had 12th position, 2018/19 it climbed up to 9th position in the standings, in 2019/20 it came up to 6th position, continuing to climb up at 1st
position in ongoing LaLiga Matchweek 13.

The head coach Imanol Alguacil, a former player of Real Sociedad who managed Real Sociedad B, leads the team. Before, a series of managers from outside wasn't favorable for the club. That changed the vision of Real Sociedad. Their decision to empower what the club already had within it, who knew it most, Imanol Alguacil as a manager, was the turning point for the club.

It's already three years since Imanol Alguacil started his job, and there is no looking back for the club. It lifted the Copa del Rey, their first major trophy since 1987 under his leadership. Alguacil focused on developing the players from their club academy center at Zubieta.

Nepalese clubs need to run academies & invest heavily on their academies if they want to progress.

After Real Sociedad B joined Spain's second-tier Segunda Division, Real Sociedad got highly benefitted. With this, Real Sociedad became the only team with representation in Spain's two top divisions.

They could make the frequent movement of the squads as per their need following Sociedad B promotion.

Real Sociedad has instilled most of the players from their academy and prepared them for the game that runs throughout the club. Oyarzabal, captain of Sociedad, is homegrown player from Zubieta. Alguacil trained him in team B. He is one of the most talented attacking players in the league now. Another player, Isak, is from outside had contributed to the exceptional games of the team.

Following the departure of Messi, Barcelona is struggling to find its original stand that creates a gap in the top five positions. A progressive team like Real Sociedad is ready to grab the vacancy in favorable situations.

The overall establishment of their players, setup between youths and senior squad, home-grown players, and unique style got Real Sociedad in a dominant position, and football fans wait to watch how far they are taking it.

Football fans can watch the live-action of Real Sociedad and other Spanish teams in the upcoming game weeks of LaLiga 21/21 in Nepal in Action Sports HD2. Dish Media Network Ltd. obtained an exclusive right to broadcast the ongoing LaLiga season.

Viewers need to get season tickets which are available on DishHome DTH and OTT platforms. Customers can also enjoy Laliga on SIM TV, Prabhu TV, and OTT platforms.