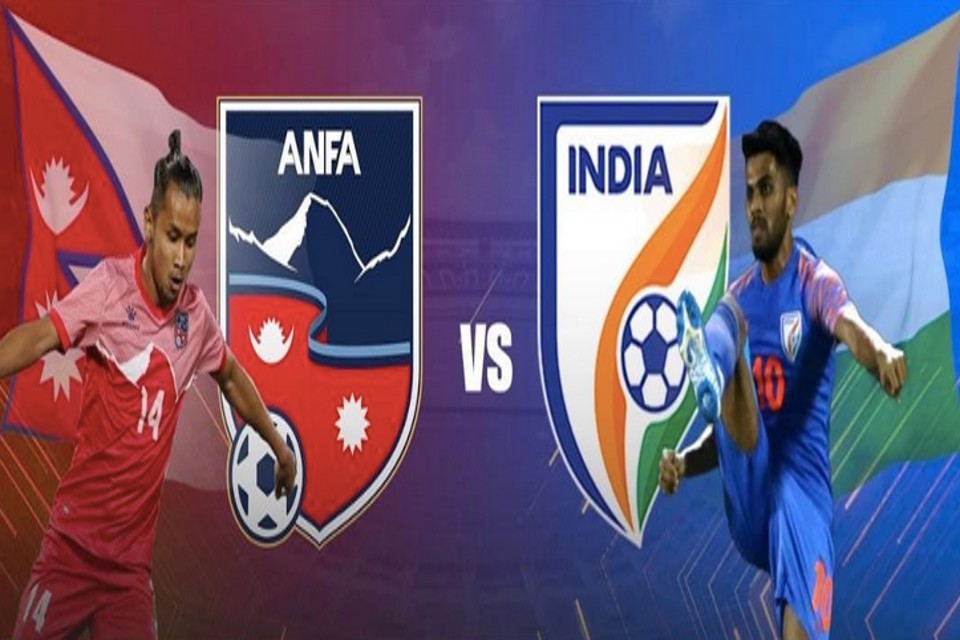 There will be a lot on the line when Nepal takes the field against India on Sunday evening in Male, Maldives.

But, in general, what does a Nepal vs. India match mean for South Asian football and Nepalese spectators?
● Excitement
When Nepal plays India, there is a different buzz all over the place; Nepali fans do not take this match lightly. With a great record, India has always managed to topple Nepal, but for the Nepali squad today, it's probably going to be the best chance to win against them yet, which would also secure a final berth; their first ever.
The Blue Tigers and their fans, on the other hand, are very excited about this game because the stakes will be much higher for them than their opponents when they take the field. Anxious and excited, Indian fans expect their team to perform better than they have thus far in this tournament.

● Respect between the sides
Both coaches expressed admiration for one another during their press conferences yesterday. While Stimac praised the Nepali team for their excellent attacking and tactical play, he is confident in his own team and expects them to take all three points. Almutairi, on the other hand, hasn't given his team many chances to beat India. Mindgames or not, he has given this Indian team a 95 percent chance of winning. However, one can anticipate that he will not field a team with the intention of not going for the win.
● Rivalry
Nepal and India have played each other often and were ranked similar until a few years ago. India now sit 107th on the FIFA rankings while the Gorkhalis are 168th in the world. Nepal have faced off against India 21 times with just 2 victories and just 5 draws. India have managed to win 14 times.
● Flying Gorkhalis
To be sure, the Nepali team is flying high in this tournament, with a brand of football that has enthralled their fans. Their Kuwaiti boss, Almutairi, has demonstrated tactical flexibility and has gained the support of fans at home. Almutairi has also shown that he can make full use of his squad. In their two games so far, his substitutions have been spot on. Manish Dangi and Aayush Ghalan, two teenagers who were brought in later, were instrumental in Nepal winning three points against the Maldives and Sri Lanka, respectively. Nepal would not want to end their run of excellent football and would like to defeat the South Asian giants, India, for the first time in eight years.
● Nepal eyeing history
With two wins out of two, Nepal would be looking to create history by reaching the SAFF Championship final for the first time in country's history. Nepalese skipper Kiran Kumar Limbu assured the Nepali fans that they'll do everything to make sure dreams of many Nepali football fans comes true.
● What would a win against India mean for Nepal?
The only thing that comes to mind is progress. Every Nepali football fan knows how this team was before Almutairi took over as head coach and how they are now. It's still a lot of the same faces, but the way this team plays football these days is entirely due to one man, Almutairi himself. And if Nepal manages to beat India, who are ranked much higher than Nepal, it will be a testament to the coach's efforts in this side in such a short period of time. This would also be a huge boost to the morale of this young Nepali team as they seek their first-ever regional title.
SAFF Championship 2023: Nepal vs Pakistan - Match Highlights