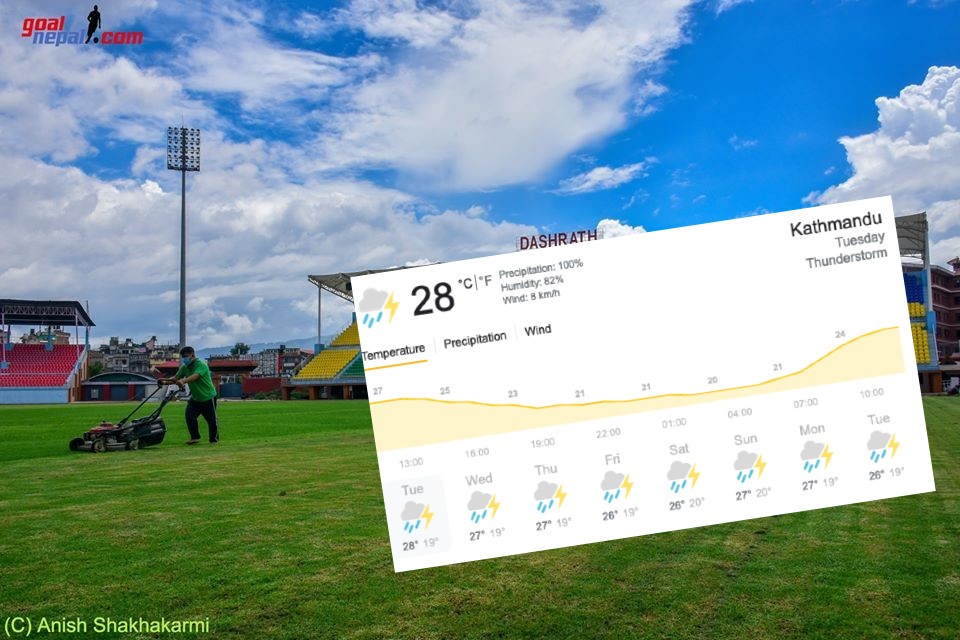 It is damp and soaked. Kathmandu is witnessing continuous rainfall and will see rainfall with heavy thunderstorm this week.


Indians are here.

Dark clouds welcomed them at Tribhuwan International Airport on Monday. That certainly didn't please them as they were "heavily loaded" in Kolkata's damp condition where they had set up their camp for weeks.



The weather forecasts heavy rainfall through out the week.

Thank god National sports council had recently renovated the field of Dasharath stadium with proper drainage system. Hopefully, it doesn't spoil the party as Nepal/India matches are always electric to the fans.



Nepal will play their first match on September 2. Weather report says precipitation on that day is 90%.

On September 5, second friendly match will be played and the precipitation is 80%.

Metal studs, raincoats, soaked jersey change in half time - this must be the preparation of team management from both sides.

Well, whatever the weather condition, fans are excited to see the breathtaking matches.
SAFF Championship 2023: Nepal vs Pakistan - Match Highlights