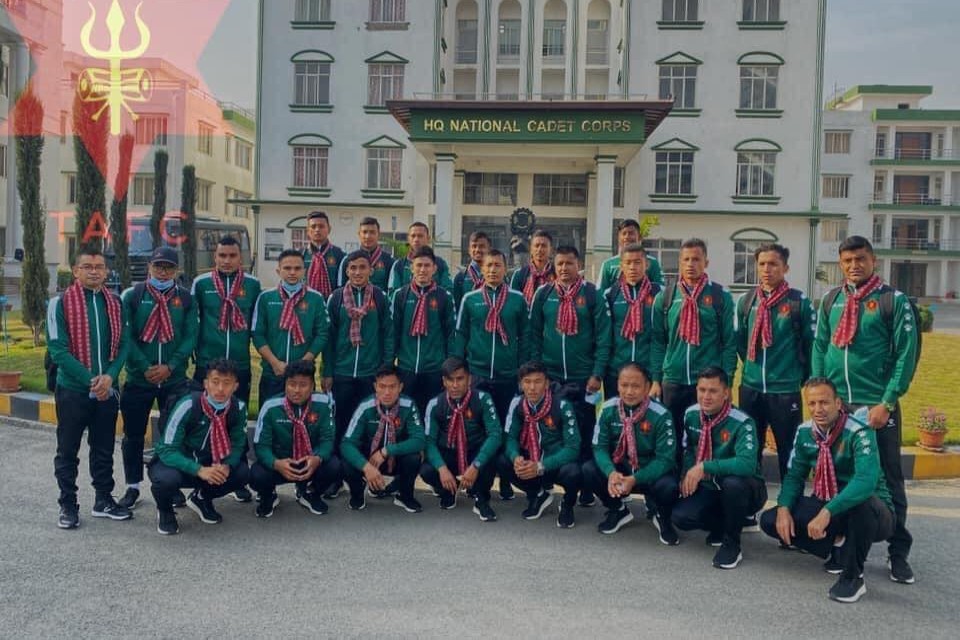 By Sushil Thapa, Fairfax, VA, USA

Committed home fans for the second straight week were in a celebratory mood, following Tribhuvan Army Club's thumping 5-1 win over Sri Lanka Police FC in the AFC Cup qualifiers held in Dasharath stadium in Kathmandu.

Tribhuvan Army Club(TAC) dominated proceedings after conceding an early goal to outclass the Sri Lankan league champions.

After squandering a handful of scoring opportunities and a goal down in the first 28 minutes of play,TAC quickly bounced back, regrouped and turned things around. They resorted to an aggressive brand of football ,short crisp passes and used both flanks effectively to attack the opposition goal.They leveled the score and surged ahead in the first half.

On the other hand, the Sri Lankan outfit totally failed to rebound in the second half as they slipped into mediocrity and sloppiness.They got literally overwhelmed by the opponent's relentless pressure and surrendered meekly.

Such was TAFC's dominance that they went on a goal scoring spree, adding three more goals in the second half.

TAFC consisting of one hundred percent local talents is studded with current and past international players in the likes of Nawayug Shrestha,George Prince Karki, Bharat Khawas, Santosh Tamang,Jitendra Karki, Suman Aryal,Bikesh Kathu and Tanka Basnet, With the win,they have advanced to the second round of AFC Cup qualifiers(Preliminary Stage 2)and take on India's Super League side Bengaluru FC on April 14th for a place in the group stage.

The match will be held at the GMC Bambolim stadium in Goa, India. The winner will then play the deciding play-off match against the winner of Abahani Dhaka Limited (Bangladesh ) and Club Eagles( Maldives) to advance to the group stage.

The winner of the play-off match will be placed in Group D (South Zone) alongside Maziya (Maldives), ATK Mohun Bagan (India) and Basundhara Kings( Bangladesh).

TAFC, runners-up of Martyrs A Division League 2019/2020 replaced champions Machhindra Football Club for the continental championship after the latter failed to obtain the AFC Club license, a mandatory requirement for participation in the competition.
Of the 13 Nepali clubs that applied for the license, only TSC has been issued the license by AFC so far.

Certainly the resounding victory over Sri Lanka Police has boosted the confidence and morale of the departmental outfit. That being said, nobody disputes the fact that there is a lot of hard work ahead that warrants a strong team effort.

Head Coach Nabin Neupane is well aware of challenges his team faces against the fancied Indian outfit composed of seasoned players and quality foreign recruits.

Odds are stacked against TSC, no doubt.Coach Neupane should have a game plan and tactical strategies based on the opposition's style of play, strengths and shortcomings by now, on paper, the Karnataka based club is favored to win.

Coach Neupane must avoid distractions. He should solely focus on his goals and instil confidence in players ahead of the
crucial tie.

As for the team, they need to up the ante going into the match. They got to stick to the game plan throughout, effectively exploit opposition weaknesses and capitalize on scoring opportunities.

Forgetting not,TSC have a chance to prove themselves. I understand it is easier said than done but it is doable. In order for them to succeed, They must rise to the occasion and play to their potential.

Furthermore, as a team they have to stand out, offensively and defensively. At no point of the game can they allow inconsistency, sloppiness and lethargy creep into their performance.

There is no shortage of talent and experience in the Army line-up.The attacking trio of Nawayug Shrestha. Bharart Khawas and George Prince Karki are known for their goal scoring prowess.

Their form and scoring touch will be key to the team's success. It was heartening to see Shrestha score twice against Sri Lanka Police.

The effectiveness of midfielders when it comes to control and dictate the tempo of the game defensively and offensively will make a big impact on the team's overall performance. In the role of midfielders, international duo Santosh Tamang and Tanka Basnet must excel. TAC defense at the disposal of international Jitendra Karki and Suman Aryal is expected to be fully tested and will require sturdy and rock solid defensive work. They must improve their tackling and aerial skills. In addition, they will have to show strength and pace as well. In young international Bikesh Kuthu TAC has a talented and skillful custodian .
On the other hand, Bengaluru FC will be seeking to make amends to their disappointing 2020/2021 Indian Super League season. They finished seventh and missed the playoffs. With the sole objective to bolster the team's performance, the Club has a new head coach in German Marco Pezzaiuoli who served as Technical Director with Bundesliga side Eintracht
Frankfurt.

In addition,they have signed defenders Australian Tomislav Mrcela and Gabonese Yronda Musavu-King to give depth to the defense that was shaky and vulnerable last season. Having recovered from COVID-19, India's thirty-six year old ace striker and skipper Sunil Chettri spearheads a rejuvenated Bengaluru FC against TAC. It is apparent that they will leave
no stone unturned as they are expected to go all out for an outright victory.

Let us hope TAC exceeds our expectations and is able to upset the applecart.