Gorkhalis Abroad
Dharan FC WIns Title Of 3rd Budha SUbba Cup
Dharan FC WIns Title Of 3rd Budha SUbba Cup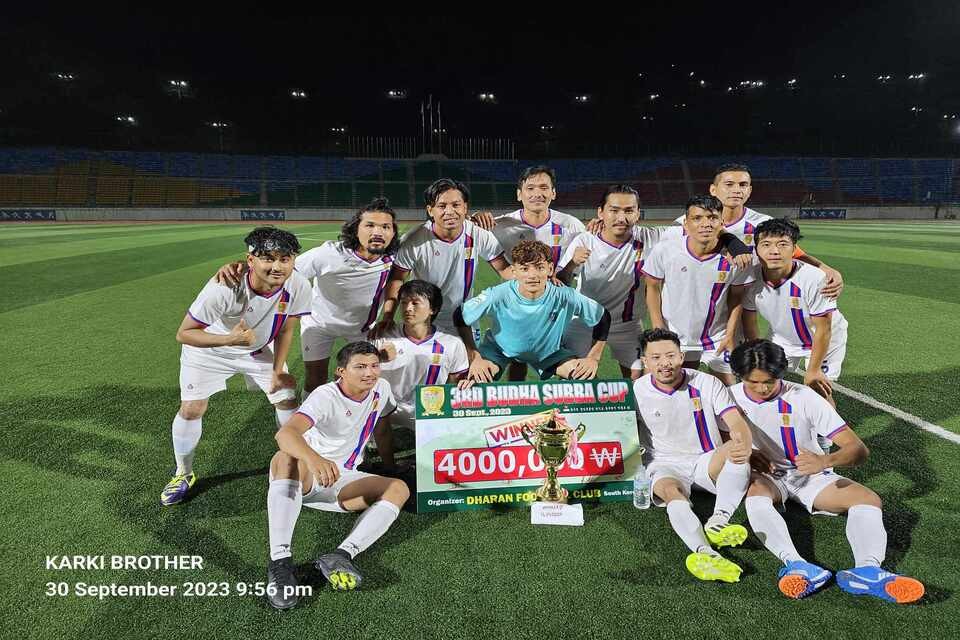 In a thrilling culmination of the "Third Budhasubba Cup" held in Dongducheon and organized by Dharan Football Club, the team emerged victorious, clinching the coveted title.

The final match, held at the football field in Dongduchan City, South Korea, was a fiercely contested battle where Dharan Football Club managed to secure a narrow 1-0 victory over Kaski Football Club.

The pivotal moment of the match came when Raj Thapa netted a crucial goal for Dharan Football Club, ultimately proving to be the match-winner. This victory was the culmination of an intense competition that featured 36 teams, including the tournament's organizers.

Dharan Football Club's triumph in the tournament earned them a prestigious trophy and a medal, along with a substantial cash prize of 40 lakhs won. Meanwhile, the valiant runner-up, Kaski Football Club, was awarded a trophy, medal, and certificate, in addition to a cash prize of 20 lakhs won.

Individual excellence was also acknowledged during the tournament, with Paul Lama of Dharan Football Club being honored as the best goalkeeper, Raj Thapa, also of Dharan Football Club, receiving recognition as the best player, and Ramesh Gurung of Kaski Football Club emerging as the highest scorer. Furthermore, it was announced by Madan Rai, the chairman of the organizing committee, that Lakh Vanan was presented with an award for his contributions.

The live broadcast of this thrilling final was brought to fans around the world by Goal Nepal.com. The event was a grand success, with the participation of 36 competitive teams, and the program was executed with utmost professionalism, as reported by the program coordinator, Saran Rai.
MMC Vs Tribhuwan Army FC - MATCH HIGHLIGHTS